About Our RI Brake Service Center & the Genuine Toyota Brakes We Use
The average lifespan of a new Toyota model is long, often seeing 200,000 miles, but contrary to popular belief, your brakes don't have a long life and must be replaced often to ensure proper braking is achieved. Some might suggest bringing your car, truck, SUV, or hybrid to any brake service shop and having it done by someone who works on all sorts of vehicles, but we do not recommend this. Only our Rhode Island service team can provide you with the best service for your vehicle and that includes even the seemingly one-size-fits-all repairs like brakes.
Only Genuine Toyota Brakes are designed for your specific vehicle, whether you drive a Toyota Camry, RAV4, Prius, or Tacoma, our staff have the components to provide the best performance and safety. These parts have been created with the same high standards you find from everything that Toyota does, so why would anyone choose something different? These brake pads, calipers, rotors, drums, and shoes have all been created to fit the exact vehicle you are driving rather than being expected to fit every type of sedan, SUV, truck, or hybrid. You wouldn't put on a piece of clothing that wasn't made to fit your body, so why would you want to do that with your vehicle's brakes which are responsible for your safety? Plus, with the Toyota brand's reputation for durability, you know these parts are created with the same high quality.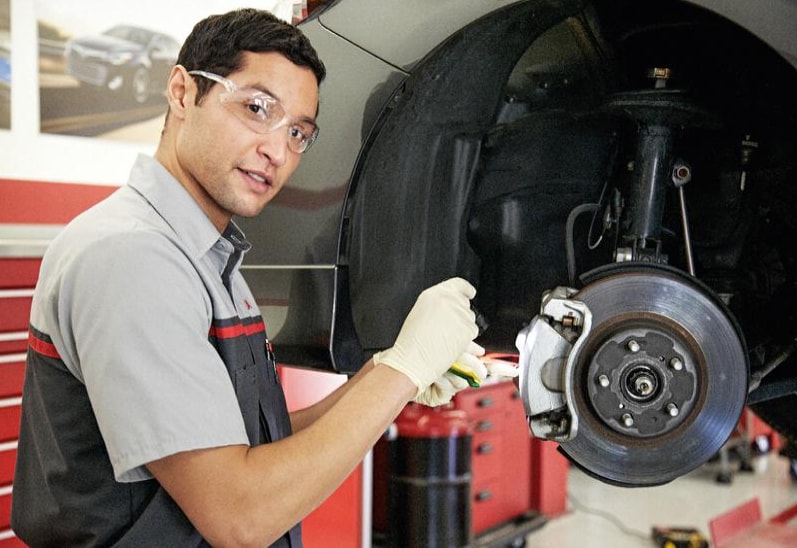 Our staff here at Toyota of Smithfield are ready to help you get the brake service you deserve for your vehicle, whether you purchased it through our dealership or not. Providing you with a reliable place to have your vehicle cared for is one of the many ways we strive to provide the top level of customer service to our Smithfield, Providence, Pawtucket, Cranston RI, or Attleboro MA customers, so visit today. Don't put off your brake service, because chances are once you begin to hear noises, you are already overdue on a brake repair.