Dash lights could mean something serious.
Our service team will keep you on the road - worry free!
Bring the vehicle in and Toyota of Smithfield's service technicians will tell you why it's on and provide a free, no-obligation estimate for fixing it.

1.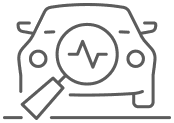 We'll tell you what the light means.

2.

What is causing the light to go on.

3.

Provide a no-obligation estimate for keeping it off.
Plus, you'll get a free multipoint inspection for complete
peace of mind!
Your vehicle's dashboard instrument panel is designed to let you easily keep an eye on important information such as speed, engine temperature, and active system indicators. The warning lights will tell you when there's an issue that needs to be checked out.
Here are the most common dash lights and what they mean:

Battery
Most often, this light comes on if the battery is old and weak or there's an issue with the alternator. If you ignore this light, you could easily end up stranded with a vehicle that won't start.

Engine Oil Level
The triggers for this warning light could be a problem with the oil pressure (either too high or too low) or simply that it's time for an oil and filter change. Our technicians will diagnose the situation in a jiffy.

Airbag and Seatbelt System
You should never ignore any issue with these life-saving components. While the light could indicate a simple sensor issue, it may also mean that the airbags won't deploy should there be a collision.

Traction Control
This important system detects even small amount of wheel slippage on wet, sandy, or icy roads and lets you know that it's working for your safety. Should that indicator light not turn off, though, it's time to get things checked out.

Check Engine
Many things - from minor to major - will trigger the check engine light. It's best to let a service technician take a look, since letting things go could lead to serious damage under the hood.

Engine Temperature
An overheating engine should never be overlooked, so be sure to get your car in to our service department if this light comes on. It usually means you're low on coolant, but there are more ominous triggers as well that could lead to permanent damage.

Tire Pressure Warning
Your vehicle's tire pressure warning system tells you when one or more tires have too little or too much air. Either situation could lead to loss of control or even a blowout, so don't put off getting them checked.